Posted in
Faith
on 02/15/2012 11:12 pm by CC
I like new and fresh things. New clothes, fresh food, new music, and fresh-smelling laundry. In fact, new and fresh things give me a sense of new beginnings.
Monday represents new beginnings, but there is something about this weekday that I don't find appealing. I've tried to like Monday, truly I have, but clearly, a love connection will not be made between the two of us.
I am head over heels about Wednesday; the halfway mark to the weekend. Sure, it's nice when my workday ends, but I look forward to Wednesday evenings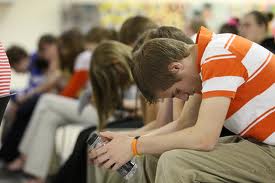 for many other reasons: 1) I'm not a big fan of cooking, so it's a blessing to be able to eat dinner at church, 2) I feel renewed by the midweek message, 3) the peaceful prayer time allows me to spend time with God – without interruptions, 4) my children get to learn more about God in their age-specific group settings, and 5) I love singing songs of praise.
I am thankful for the mid-week respite of Wednesday evenings at church and the relationships that are fostered during such gatherings.
Father,
I am thankful that You slow me down on Wednesday evenings, so that my family and I can spend time getting closer to You. I am thankful for the opportunity to go to the altar and pray for the needs of my fellow congregants. It's always a powerful way to show support for one another and to acknowledge that You are all that we need.
I pray that attendance at Wednesday night service grows, so that others will be able to experience what life is like when we pause long enough to shut out our busy schedules to spend more time with You. I pray for those who are unable to physically join us, but are there each week in spirit.
In Jesus' name, Amen!
CC