Posted in
Consumer Issues
,
Cooking
on 02/09/2012 12:13 pm by CC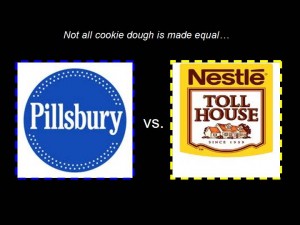 I don't have the patience to mix up a batch of homemade cookies, so I'm a huge fan of ready-to-bake cookie dough. During the holidays, I baked the usual variety for the kids to decorate: gingerbread and sugar cookies. Being in the midst of the magical season and wanting to do something different, I tried a new flavor: White Chocolate Macadamia Nut. They…were…heavenly! Just the right amount of white chocolate chips (I'm not a big fan of any kind of chocolate chips, so this was a bonus) and enough macadamia nuts to taste in every bite.
So, as I was speeding through the grocery store a few days ago and picked up a package of dough, it didn't occur to me to check out the brand label. Big mistake! I learned the hard way that not all refrigerated cookie dough is made of the same caliber.
What I ended up with was a batch of cookies that, according to my personal preferences, had way too many white chocolate chips and did not have enough nuts. They were a huge disappointment. The package should have been labeled "White Chocolate Chip Cookies" and in that case, I would have moved on…
The moral of the story is that, sometimes, brands do matter. In this case, Pillsbury is the clear winner. Sorry, Nestle!
Do brands usually matter to you? What are some exceptions to your personal rule?
CC