Posted in
Cooking
on 02/03/2011 11:04 pm by CC
If you're busy like me or don't want to commit a lot of time to cooking, this quick and easy recipe is sure to become a favorite! Many of the ingredients are optional, so you can really make this salad your own.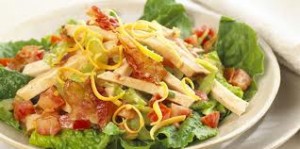 Cooking time is approximately 25 minutes and prep time is approximately 5 minutes.
Ingredients
– 1 bag of frozen buffalo chicken strips
– 1 bag of pre-mixed salad
– 1/2 cup of shredded cheese (any variety)
– 1/2 cup of croutons (any flavor)
– 1 tomato (any size) – optional
– 1 cucumber – optional
– 1/4 cup dressing of choice – I prefer Kraft's Roasted Red Pepper Italian
Preparation
– Bake buffalo chicken strips as directed on the bag then cut them into bite-sized pieces.
– Rinse and drain pre-mixed salad and put into a large salad bowl.
– Add diced buffalo chicken strips.
– If desired, dice tomato, cucumber, and croutons and add to salad mix.
– Pour dressing over mixture and gently toss.
Serve immediately and enjoy!
For added pizzazz, use tortillas to make buffalo chicken wraps!
Please post feedback if you try this recipe as-is or make alterations.
Love to all!
CC