Posted in
Cooking
and tagged with
casserole
,
chicken and broccoli
,
dinner
on 02/03/2011 11:33 pm by CC
Chicken and broccoli casserole is a family favorite that I whipped up on a whim and the results couldn't have been better.
Cooking time is approximately 45-50 minutes. Preparation is approximately 5 minutes. Yields 12-15 servings.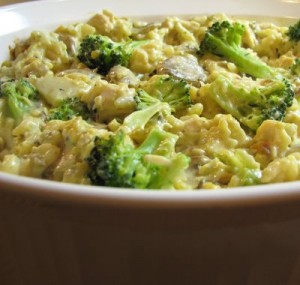 Ingredients
– 10 oz. of frozen diced chicken breast
– 1 cup of large broccoli florets (frozen)
– 1 lb. of pasta (any shape or cut)
– 8 oz. of shredded Italian or mozzarella cheese
– 1 small can of Campbell's cream of chicken soup
– 1 small can of Campbell's broccoli and cheese soup
– 1 teaspoon of parsley (fresh or dried)
– 1/2 teaspoon garlic salt
Preparation
Preheat oven to 400.
Boil pasta for 25-30 minutes, then drain and add to oven-safe casserole dish.
Cook frozen, diced chicken per bag's instructions (adding 1/4 teaspoon of ground black pepper). You may use fresh chicken, if desired.
Boil frozen broccoli for 10 minutes then drain and dice into bite-sized pieces.
Prepare cream of chicken and broccoli and cheese soups as directed (see can for details) and add to cooked pasta. Mix to coat pasta.
Add cooked chicken, broccoli and garlic salt to pasta and mix well.
Coat entire casserole with shredded cheese.
Garnish with fresh or dried parsley.
Bake at 400 for 20 minutes.
Great side items for this meal are a garden salad and dinner rolls.
Enjoy!
Love to all!
CC