Posted in
Consumer Issues
,
Cooking
,
Family
and tagged with
Bob Evans
,
dinner
,
meal
on 09/29/2011 08:21 pm by CC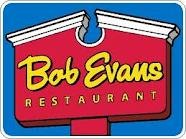 Most of my family and friends know that dinner is one of the most frequent gripes that I post about on Facebook. Whether I've forgotten to defrost meat for the evening, misjudged (again) how much time I would need to prepare it, ruined it while cooking, or just plain ran out of time, dinnertime is stressful in my house.
Thank goodness I have a favorite go-to for help – Bob Evans! Their online ordering tool and family-sized meals are lifesavers, indeed!
Bob's came to my rescue again tonight. I misjudged how much time I had to cook dinner and get everyone fed before taking my youngest to dance class. Having just 45 minutes to spare between finishing my work day and needing to leave for the dance studio, my only option was to log onto BobEvans.com. Since I already have a profile, I just logged in, made a few selections, and showed up at their doorstep less than 30 minutes later.
Now while Bob's staff are good, they can't make miracles happen. Miracles like eating and getting to the studio in the span of 10 minutes. I was on my own for this one. My clever solution? Pack dinner for my daughter and me. She ate in the car during the drive and I ate while sitting in the van waiting for class to end. My dear husband took care of feeding everyone else at home.
All is well. Thanks, Bob, for all that you do to make my life a little easier.
What are some of your solutions for solving dinnertime chaos?
CC