Posted in
Faith
on 02/02/2012 12:07 pm by CC
Deadlines, schmeadlines. Conference calls. Emails. Mondays. Eeek!
I love weekends. Especially long, holiday weekends. One of my favorite times of the week is sometime around 5 PM on Friday, because I have the whole weekend ahead of me to do as I please. Some weekends consist of spending quality time as a family. Some are full of running errands. When the mood strikes, some weekends are overtaken by home improvement projects. Let us not forget about the weekends that are filled (mostly) with me sitting on the sofa being the biggest bum that I can be. As a former Type A personality, this is an art that I've learned to perfect in recent years and I must admit, it feels great to relax a little. Live a little!
While I love a long weekend or vacation, today, I am ever so grateful to be employed. In recent years, I've fallen out of love with my career, but now have a renewed sense of pleasure in it. I made it through January without any serious gripes. That's major!
Maybe it's the economy that makes me more grateful than ever. Or perhaps the broken ties to a negative associate have given me new energy. Maybe it's a little of both. However, I like to think that the biggest reason for the change in my attitude is Him. He has been
working on making me more content with where I am and what I have. He's also been telling me to do everything that I do to His glory.
Today, I am grateful to be employed for a company that allows me to be creative and provides the flexibility that working moms desire.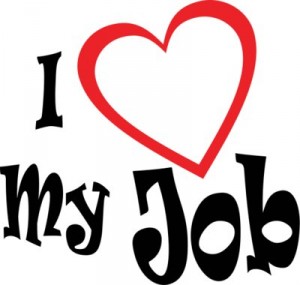 Heavenly Father,
Thank you SO MUCH for providing a job that I wasn't even seeking fifteen years ago. It has been an honor and pleasure to share with others the story of my life of which You have authored so amazingly. Only You knew that the door, which was opened door so many years ago would lead me to where I am today. I praise You for infusing me with a renewed spirit to do everything that I do in such a way that it brings glory to You. While I often stumble, I am always thankful for and overwhelmed by Your presence in my life. I pray for continued refilling. In Jesus' name, Amen!
In love,
CC