Posted in
Family
,
Parenting
on 06/14/2011 05:07 pm by CC
Part one of a two-part series on helping our children to overcome poor displays of etiquette.
We've all seen or witnessed it: unruly and out of control children at formal functions, kids who butt into conversations, or children who have a sense of entitlement for things often undeserved.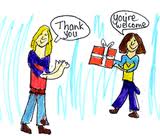 So how can you help your underage rule-breakers? According to Cindy Post Senning, a descendent of etiquette expert, Emily Post, use of the Golden Rule of Parenting goes a long way in helping our children to model desired behaviors. Senning says, "Always be the kind of person you want your kids to be". That's right, the "Do as I say and not as I do" rule goes out the window! If you want properly behaved children, you must exhibit proper behavior. Don't worry – if bad habits have already been formed, there's hope.
Let's break down three common etiquette offenses and explore ways to help our young ones to learn the art of good manners.
Conversation Butting – Unless the building is on fire or someone has been injured, it's a good idea to teach your children at a very young age to have patience, because world does not revolve around them. The urge for children to blurt out something and demand your attention while already engaged in conversation with someone else is a bad habit to break once already formed, but consistent training will get you (and your child) to your goal. The next time, little Mary tugs at your arm while you're having a conversation that does not involve her or continues to call out, "Mom, mommy, momma" or some other term like, "now!", politely say, "Dear, I would be happy to speak with you as soon as I finish my discussion with Mrs. X". Repeat this each time Mary decides that she wants your immediate attention; she'll get the message eventually.
Formal Function Meltdown – Events such as weddings, funerals, and awards banquets are the most formal events that many of us will ever attend during our lifetimes – unless you're the recipient of an invitation to a dinner at the governor's mansion or the White House. If you plan to take very young children to such events, be sure to pack quiet and age-appropriate activities to help them pass the time – unless you want to be the victim of a formal function meltdown.
Most parents have found that coloring books work wonders with children ages 3-7. For slightly older children, a chapter book, crossword puzzle, or word search can provide enough entertainment 'til the end of the stuffed-shirt event. If video games are a must, don't forget to pack the headphones as the other guests likely won't want to hear your child's favorite game. Of course, these comfort items should be saved until the attention span of your young one is nearing an end.
You know your child better than anyone else, so if rewards work for good behavior, offer one ahead of time, so that they know how high the stakes are. Don't hand over the award until after the desired behavior has been achieved. Otherwise, you'll be setting yourself up to provide a reward, while still getting poor behavior. Not to mention, the behavior is likely to continue if a reward is given for without having to work for it. This brings us to the next topic of poor etiquette…
Sense of Entitlement – As parents, it's often difficult to not shower our children with love and material things, but if we're not careful, we end up raising children who sincerely believe that they are entitled to pretty much anything they want. Helping them to preface requests with "please" and respond with "thank you" will help them to understand that a certain level of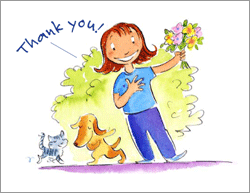 respect is necessary (and honorable), whether or not they ultimately they get what they want.
During this time of year, graduates enjoy gifts the flow in from friends and family near and far. Remind them to write Thank-You cards. The lost are of writing thank-you notes can be resurrected amongst our children if we simply teach them that a gift is just that – a gift – and not an entitlement and a simple acknowledgement exhibits proper gift-receiving behavior.
One more note on entitlement, birthday party gifts should never be expected from invited guests. Parties are not a tit for tat and your guests owe you (and your children) nothing other than an RSVP – even that's debatable.
Look for part 2 of this 2-part series!
Thank-you note examples for young children (printable)
More thank-you note examples for children
Let's chat! Have you been offended by children behaving badly or are your children the offenders? How have you handled situations of poor behavior? Post questions, comments, or advice.