Posted in
Career
,
Family
,
Parenting
on 01/13/2011 11:37 pm by CC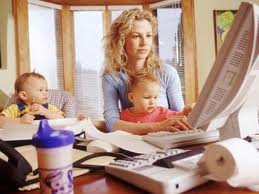 So much for working 9-5 each day. Advances in technology make it easier than ever to work outside of the office. But is that a good thing?
My corporate job comes with many great perks, such as the ability to work from home. However, along with the perk of being able to work at home comes the expectation that I am available to work days, evenings, weekends, vacations, and holidays. Sadly, I don't feel singled out, because these same expectations hold true for those who commute to the office each day.
Since when is it OK for companies to expect workers to be available around the clock 365 days of the year? Sure, my company offers paid time off (PTO), holidays, and other kinds of paid leave, but what about their policy regarding allowing employees to take uninterrupted time off work to refresh our minds, souls, and bodies? Not much relaxation and rejuvination can happen when someone shoots off an email at an ungodly hour and expects an expedient response.
What about "leave" is so hard to understand? Children get the concept, but unfortunately for them, that trend is going away, thus their definition of time off will inevitably evolve. Christmas and spring breaks bring about required reading and packets of seemingly endless homework. In addition, school districts are begining to allow teachers to conduct class remotely when schools are closed. So much for good ol' snow days filled with enjoying movies and cocoa, shoveling, sledding, snowball fights, making snow angels and snowmen. Children are learning that time off for relaxation and rejuvination is a bad thing, a lazy thing. And that, to me, is a bad idea.
How's your job? Is there an expectation that you'll to respond to messages late at night, thumb through text messages on your cell phone, and type reports as soon as you get home from your office while juggling kids homework and making dinner?
Is work-life balance even possible? Susan Davis, author of five books, about health, well-being, education, and business doesn't believe it is. In her article, The Myth of Work-Life Balance, she writes, "researchers have found, American workers are spending more and more time on work, and less and less time on life — to an understandably detrimental effect".
Susan offers the following "Takeaway Tips" that help her strive for balance.
Figure out the foundation: In order to be inspired and productive in my work life, as well as clear and kind with my family, I need good exercise, deep sleep, and time for reflection. Other people might need massages, time with friends, six meals a day, protein drinks, regular knitting sessions, weekly poker games, or afternoon naps. What do you need to feel balanced, energized and productive?
Fine-tune the details: On some days I can't get off first base without hearing Bill Withers' version of Use Me. (Not a healthy emotional theme, I know, but the rhythm moves me.) Other days I can't hit my stride unless I spend a few minutes outside, watching the clouds and listening to the hens. And there's many a day when I can't gather my thoughts without a cup of very strong, very hot coffee—in a the grey earthenware mug that was made by a potter in my hometown. The point? Identify what you need in the moment and try to provide it for yourself.
Go for what you need: I know some of you are reading this and thinking, "I have no time." I have no time either — unless I understand that taking care of myself (that's my body, my mind, and my spirit, by the way) allows me to work better, live better, and feel better. In other words, self care doesn't take away from our work and life; it enhances it.
Do you have any self-care routines that help you survive the nearly seamless divide between work and life? Let's talk!
Love to all!
CC