Posted in
General
and tagged with
seasons
on 09/14/2011 08:45 pm by CC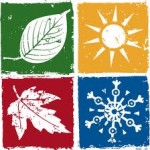 Depending on what time of year you ask me, "What's your favorite season?", my answer will vary.
See, in February or March, I would likely say that Spring is my favorite season, because I'm not a huge fan of cold weather – especially if it didn't produce a beautiful blanket of snow to play in outside or look at from indoors. I love the warm temperatures, the new spring colors, and the season of Easter.
However, if you ask what my favorite season is this time of year, I'd say it's Fall, because it's much like spring – nearly perfect. I love the brisk temperatures, the colorful foliage, and, of course, football season!
Ask me that question in November and I'll say that winter is my all-time favorite time of year – hands down, because that's the season of Christmas. I love who the season represents, I enjoy snow, I love the smell and crackle of wood burning in my fireplace, and I love how cheerful people seem to be. Aren't people incredibly kind at Christmastime? If we could just freeze that kindness forever…
So as far as I'm concerned, Spring, Fall, and Winter are all my favorite months.
Oh, wait! How could I forget about the adventures of summer. When you subtract the oppressive heat, that is another favorite season. No school, few activities, summer travel, lots of time spent with family, and relaxation makes me one happy Best Books Network!
Hmm, I guess my favorite season is all of them!
What is your favorite season and what do you like about it?
CC