Posted in
Parenting
on 06/01/2012 05:50 pm by CC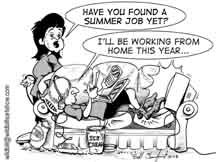 The picture above sums up the past few weeks in my household. Trying to get my sixteen-year-old to understand the importance of getting a summer job, at times, seemed like a full-time job for both my husband and me.
I could hardly believe my ears when my teen yelled, "You don't need the money! I don't need the money! So why do I need a job?! It's pointless to make me look for one!"
Where, oh, where had the drive to earn his own money and not rely solely on allowance gone? Surely, this kid's memory of summers' past hadn't been erased. We used to pay him for cutting the grass and he was ever so proud of his accomplishments and earning potential. Especially, after a neighbor hired him to cut their grass for the entire summer.
Despite his resistance, my husband and I stood our ground, lectured frequently, and even issued an ultimatum that our teen didn't take seriously. Given that we say what we mean and follow through with most it, it's a wonder that we had so much opposition.
While the battles were intense and emotions sometimes got the best of us, all is well that ends well. You see, after submitting just one application, placing a follow-up call to the employer (at my insistence), and refusing to apply for any other other job on the face of the planet, my teen landed an interview. Just one day later, he heard the four words that we'd all prayed he would hear:
YOU
HAVE
THE
JOB!!!
Victory!
The scowl that I thought had been permanently etched onto my handsome boy's face had vanished. Despite our worst fears, he hadn't blown the interview on purpose. He presented himself in the best light possible and impressed the interviewer who, in turn, put in a good word for him with the head manager who ultimately made the decision to extend a job offer.
Sure, it's not a humanitarian role or a graduate school appointment, but we're still proud. At sixteen, our teen has gotten his foot into someone's door and he will soon realize that the sky is the limit.
Praise God for opening a door that my teen didn't want to pass through and praise Him for breathing optimism into the life of a kid who didn't think he wanted to enter the workforce as have many of his peers.
The big day at work is Monday and we will continue to pray that this experience will be positive and enriching in purpose.
Love to all!
CC
Jeremiah 29:11
"For I know the plans I have for you," declares the Lord, "plans to prosper you and not to harm you, plans to give you hope and a future. (NIV)