Posted in
Faith
on 02/24/2012 11:51 pm by CC
The title says it all. I am thankful for God's power to heal. Without going into much detail, suffice it to say that if it's not one health concern, it's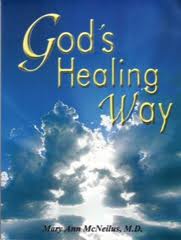 another. While getting ready to leave for a dinner date with my husband earlier this evening, I had to summon him to my side twice to literally help get me on my feet. The pain that I experienced was the worst that I can remember for this particular ailment and it lasted longer than ever. Through tears and with His help, I was able to pull myself together and go on my way to enjoy a wonderful dinner and conversation with my dear husband.
I am thankful for God's healing.
Father,
I pray that You will choose to heal me of the various health concerns that I face each day. You know each challenge and have made it possible for me to be independent and mobile thus far. My life is in Your hands, Lord, to do as You will. I am thankful for good the health of my husband and children. I pray that You will keep them healthy. I pray for the family of a church member who received devastating news today. Please comfort their family during this difficult time. In Jesus' name, Amen!
CC