Posted in
Miscellaneous
on 01/12/2011 11:29 pm by CC
Black, green, white, red, herbal, oolong, Pu-erh (AKA Puer), blends, and flavored. Who knew there were so many varieties of tea? I'm a tea connessuier, but Pu-erh is a new one for me.
Regardless of the variety or flavor, I'll try just about everything. Since you can't buy one bag at a time, I've collected a half dozen varieties, dozens of flavors, and hundreds of bags of tea.
What's so special about each tea?
Black tea – the most popular globally; caffeinated, bold flavor
Green tea – healing qualities; second most popular variety
White tea – rarest on earth; slightly sweet and subtle flavor; great for complexion; higher concentration of antioxidants than all other teas, fights cancer
Red (AKA Rooibos) – Slows the aging process, treats allergies, decaffeinated, great for people prone to kidney stones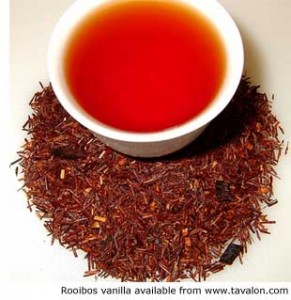 Herbal – Encourages restful sleep; helps the digestive process; eases nausea and cold symptoms
Oolong – most expensive variety; commonly found in Chinese restaurants; speeds up weight loss and boosts metabolism; excellent source of flouride; aids in digestive process; reduces risk of hypertension
Pu-erh – cleanses blood and removes toxins; improves eyesight
Blends – just as the name implies, tea blends contain a mixture of two or more varieties
Flavored – flowers, oils, herbs and spices are added to enhance the taste
Stay tuned for part 2 where we will discuss a myriad of flavors.
Love to all!
CC