Posted in
Family
,
Parenting
,
Relationships
and tagged with
dinnertime
,
family dinner
,
family meals
,
tradition
on 10/09/2011 06:26 pm by CC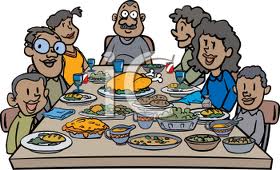 "Guys, come eat!" Those are the words that my family eagerly awaits to hear each evening at dinnertime. The patter of nearly a dozen feet can be heard on every floor of the house as everyone makes their way to get cleaned up for our last meal of the day.
One of my teens is usually in, or near, the house with two friends. Routinely, I invite them to stay for dinner. Inevitably, both teen boys decline. I began to wonder if my cooking abilities could have been the reason for the repeated rejection. So, to my surprise, when I offered to have them join us for take-out, the invitation was once again declined.
How could this be?! Teen boys…love…food!
Question: What could be the reason teen boys would turn down an offer to eat – even if they'd already had dinner at home?
Answer: Family habits.
Let me explain. I later learned that neither boy's family enjoys mealtime together. Everyone eats at different times and not always at a table. One friend admitted to my son that he eats dinner in front of the television every night – alone. Why? The table in their dining room has a glass top and has been deemed too fragile for use. It's just there to fill space and no one can use it.
That story made me sad. I can't imagine not regularly having dinner with my family. Sure, we have nights when one or two of us are absent from the dinner table due to a class or some kind of practice, but we still dine together nearly every evening.
I love hearing about what's on everyone's mind. I love seeing their faces. I love the silliness that's expressed in every prank, comment, or joke. I love taking turns praying over our meals. Simply put, I love the time that we spend together.
In a household with one tween and three teens, we are well aware that our days together as a nuclear family are numbered. Soon, our oldest will be leaving for college. Two years later, two more will also leave for higher education. And two years after that, we will become empty-nesters.
Time is not on our side, so for us, dinnertime is a sacred gathering where stories are shared, questions about life are asked and answered, manners are taught, jokes are played, and silly faces are made. Families bond are tightened and memories are made at the dinner table.
Dinnertime togetherness is one of the most blessed gifts we can give to our children. I pray that the values we're passing along to them will be passed down by them to our grandchildren and that the tradition of family togetherness doesn't become lost in conflicting schedules or the simple awkwardness of needing to be alone.
What's dinnertime like in your house? Is the dinner table a place for laughter and sharing? Do conflicting work or activity schedules keep everyone from dining together? Does a museum-like status of your furniture trump use of your family's dining area?
Share with us!
CC