Posted in
Entertainment
,
Family
,
Miscellaneous
and tagged with
bracelet
,
crafts
,
jewelry box
,
keepsake box
,
puzzles
,
Valentine's Day
,
wreath
on 02/08/2011 11:05 pm by CC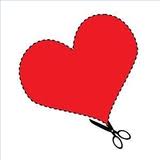 Looking for a way to tame cabin fever, have fun with the kids, and celebrate Valentine's Day all at once? Try these easy craft ideas that require little to no materials.
Bead Bracelets
These gifts are simple and inexpensive. You'll need:
Clear beading string (stretchy)
Red, white, and clear beads
Scissors
Simply cut clear beading string into 8″ lengths and add beads in whatever pattern your heart desires. Once bracelet is at desired length, tie ends into triple knots and snip excess string.
Keepsake Box
Making your own jewelry or keepsake box is a great way to pass the time when cabin fever has taken hold. These inexpensive items can be purchased at your local crafts store.
Small wooden box (unfinished)
Wood paint (or spray paint for shorter drying time)
Stickers
Lightly sand the box to remove rough edges then add coat of paint. Let paint dry completely before adding second coat. Finally, decorate with stickers and/or paint festive designs onto box. Viola! A simple, personalized keepsake or jewelry box.
Paper Wreath
Materials needed:
Construction paper or card stock in traditional valentine colors
Glue or yarn
Draw heart template onto construction paper or card stock. The firmer the template, the easier it is to trace.
Trace approximately 15 impressions of the heart template and cut from paper.
Decorate each heart with drawings or messages.
Line up the heart cutouts to form a circle and adhere with glue, or punch small holes (one on each side of heart) and string together with yarn.
Hang finished wreath for everyone to see!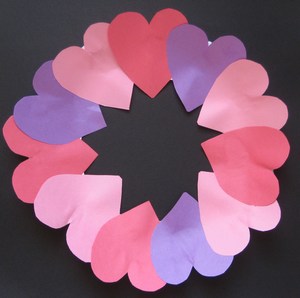 Word Search
Make a list of words that remind you of Valentine's Day, then enter them into a free online word search puzzle maker, such as the one found at Discovery Education. Print and search!
For an added seasonal touch, print word search on translucent paper (found in craft stores), then glue to red construction paper being sure to have a border for decorating purposes.