Posted in
Faith
,
Family
on 09/13/2011 09:25 pm by CC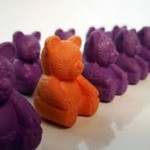 I love listening to music and I love to sing. In fact, I sing out loud quite often in the comfort of my own home or car just because it feels like the right thing to do at the moment. My family thinks that I'm weird for shamelessly belting out off-key tunes. Sometimes the off-key tunes are intentional and sometimes they're not, but it doesn't matter, because I'm having fun singing and my family is having fun heckling me. All is well!
I love reading just as much as I love singing and while I have a handful of long-term favorite authors, my new favorite is Craig Groeschel. His books tend to have catchy titles, but beyond the propaganda, you'll find some excellent advice on how to live a life that is pleasing to God.
The prevalent piece of advice in his book titled Weird is to, "Do what few do in order to get what few have", rather than the more popular, "Do what most do to get what most have". I want to do what few do and have what few have, so that I can spend eternity where few go. I want to be weird!
The Bible tells us in Matthew 7:13-14 to "enter through the narrow gate. For wide is the gate and broad is the road that leads to destruction, and many enter through it. 14 But small is the gate and narrow the road that leads to life, and only a few find it".
So how does that translate into daily actions? In my case, it means:
Not doing what other parents do if it means sacrificing my Biblically-based parenting beliefs in exchange for "normal" children.

Not keeping silent my love for God. Sure, many of my Facebook friends aren't Christians, but that doesn't keep me from openly praising Him. I will not deny Him before others.

Sharing my testimony with others – even the uncomfortable parts that some tend to keep tucked away in their subconscience and wouldn't dare tell anyone.

Tuning out what's popular and instead, tuning in to Him more.
I've never had a problem being weird, but this particular brand of weird is pleasing to God and I want it like I want nothing else! Each day brings a new opportunity to be even more weird than I was the previous day. How many people do you know would be brave enough to admit that they want an increased portion of weird?
Are you weird? Share your comments.
CC
Striving to be God weird!